For James Beard Award nominee chef and author Jeremy Umansky, the seder meal conjures memories of fish.
The founder and co-owner of Larder Delicatessen & Bakery said he remembers his grandmother's gefilte fish, which she taught him to prepare, and that the holiday falls near April 1, when the French celebrate the return of fish to the streams of France from hibernation.
"Not everybody enjoys gefilte fish," Umansky told 36 participants at a virtual event held by Park Synagogue March 30 titled "Not Your Bubbie's Pesach Cooking Class." The event raised more than $1,000 for the Cleveland Kosher Food Pantry in South Euclid and the Cleveland Chesed Center in Cleveland Heights to help them provide food for Passover.
"Some people eat it reluctantly," he said of the traditional Passover dish. "Some people do enjoy it. But going with a nice local freshwater fish that we all have access to is a great way to go."
Larder in Cleveland's Hingetown neighborhood is about four blocks from Lake Erie, "one of the greatest freshwater resources on the planet," Umansky said. "So it doesn't always necessarily make sense to me to fly in fish from an ocean or somewhere far away when we can literally source it on our doorstep."
Umansky grew up in Solon cooking with his grandmother at B'nai Jeshurun Congregation in Pepper Pike, which was then in Cleveland Heights.
"She started bringing me in to help her with different catering events a little after my bar mitzvah," Umansky said. "So I've been doing it a long time at this point. I just turned 39 And I've been paid to cook since I was about 13."
He said the heavy themes of Passover can be balanced by a lighter meal. His menu was spring trout, asparagus salad with morel mushrooms, roasted root vegetables and horseradish and poached meringues with blueberry honey sauce.
"The story of us leaving Egypt wandering around eventually finding our way, there's a lot of triumph and tribulation there," Umansky said. "And we're supposed to embrace the holiday in a relaxed manner. And that's why I also feel that lighter dishes are good for that."
Umansky peppered his remarks with philosophy on cooking and tips for assuring a safely and beautifully prepared meal. A running theme in his commentary was flexibility.
He demonstrated different cuts of the asparagus, explained how to make mushroom broth from dried mushrooms as well as mushroom powder, blanched and shocked asparagus and whipped egg whites by hand for meringues he poached in milk and sauced with blueberries and herbs de Provence.
During the demonstration, Umansky made several substitutions and encouraged viewers to do the same – whether out of convenience or preference.
His recipe for the blueberry sauce was developed with lavender in mind, he said, but lavender was unavailable, so Umansky used dried herbs de Provence instead, which contains the aromatic.
Dill was on the list of ingredients of the asparagus and mushroom salad, and Umansky said cilantro came in his restaurant delivery that day, so he used mixed fresh herbs.
One of his recipes called for green garlic, or garlic scapes, which Umansky explained is the first green shoot of garlic in the spring.
"So the spring garlic has much more green vegetal flavor to it. It's a little lighter, it's a little brighter, and it's not as pungent as garlic in a head," Umansky said. "So using spring garlic in this recipe, and if you can't get it yet, you know, we're still a few weeks to a month away from seeing some of those ingredients which hopefully will line up with Pesach this year. But otherwise scallion's a great substitution."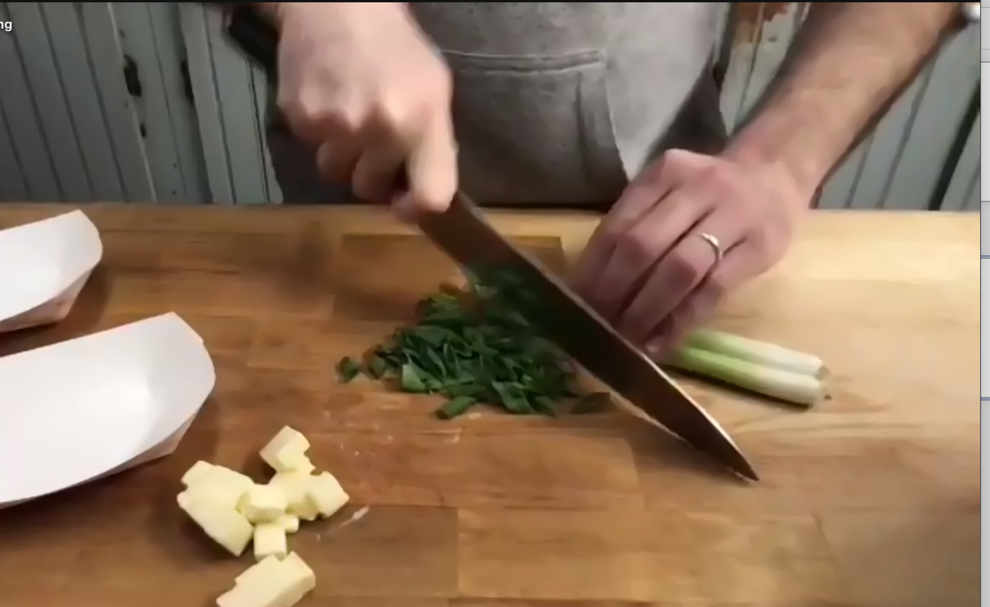 For the root vegetable dish, Umansky chose beets, parsley root, which he said is different from parsnip, and radish dressed with a horseradish and black pepper pesto. He'd intended to use yellow beets and couldn't find them so used red instead.
Viewers asked about celeriac, carrots and parsnips as possible substitutions. Celeriac, he said, would impart "a stronger celery flavor."
"You could totally use carrot and parsnip," Umansky said. "You're more than welcome to. I know beets can be polarizing for some people."
Umansky used a small dice for his vegetables, he said, to allow people at the table to eat a single forkful of fish and vegetables together.
"You can cut it in rings in the coins," he said. "You could cut large dice if you want. … Just make sure that when you cut them that all the vegetables are a similar shape and size, because we're going to cook all these together at the same time. And if we end up with hunks that are way bigger than others are way smaller than others, they're not going to cook evenly in the oven. So someone may get some pieces that are under done, and then another person may get a mushy piece. Or you may get both in the same forkful."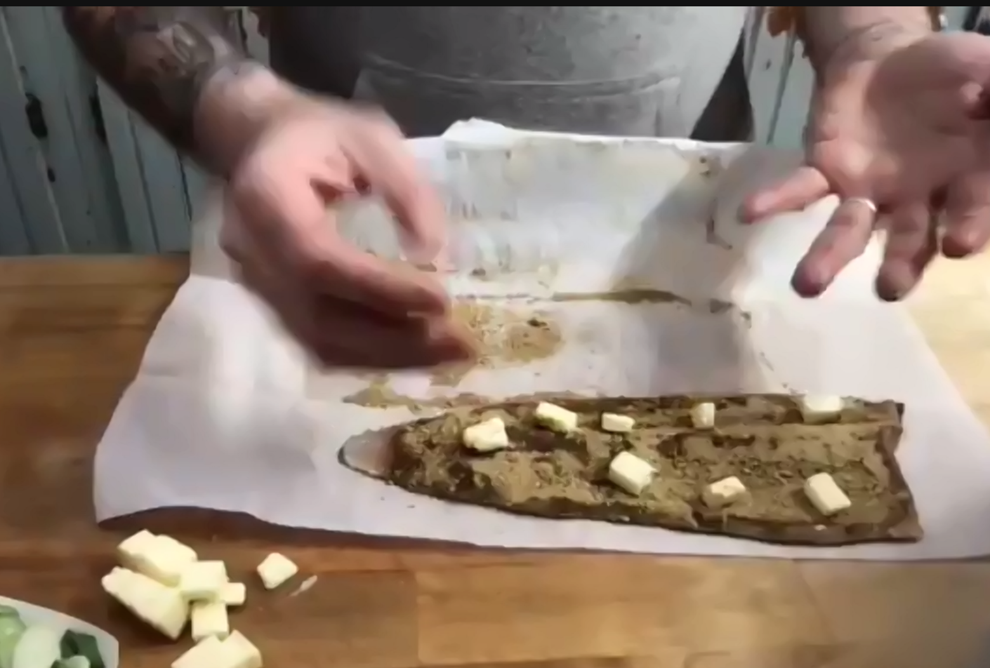 Umansky said he does not peel his vegetables, instead using a vegetable brush to wash them.
"You paid for the peel," he said. "It has more flavor in it. There's no reason to remove it whatsoever. You're literally throwing money down the garbage disposal or in the compost pile."
A participant asked whether a substitution could be made on sunflower seeds in the root vegetable side dish, prompting an explanation.
"The reason I like using the sunflower seeds is it's very Eastern European," Umansky said. "One of the major crops of Ukraine is the sunflower. So both for seed, for oil, they grow the flowers and export them all over the world. My family's from Ukraine, from the town of Uman, hence my last name. So I have a strong affinity for that. So most recipes that call for like nuts and seeds, I typically default to this like Ukrainian way of incorporating them, which would either be sunflower seeds or walnuts."
Umansky said he grows his own horseradish.
"Every year I save the top end where the greens would be on the root and I bury it in my flowerbeds," he said. "And it grows into wonderful horseradish. So now I don't have to buy it anymore. I can just go dig it. But the leaves are great that you can cook them like you would mustard greens and stuff and they're beautiful and stunning. Deer don't like them. So I've got that kind of planted in by my hostas and it keeps them away. So yeah, so buy the whole root plant the remainder. … My daughter loves it. She loves like every Passover we go plant the horseradish root and then she sees the next year how many more horseradish plants we have. it's just a lovely thing."
To make mushroom powder from scratch, Umansky said to grind dried mushrooms. To make mushroom water, he recommended rehydrating dried mushrooms then straining the water through a fine-mesh sieve or a coffee filter to remove any sand.
While Umansky used lake trout from Lake Erie, which he said he sourced from Kate's Fish at the West Side Market, he said steelhead or other types of trout would also work.
Umansky demonstrated two ways to remove the tough end from asparagus: by cutting the end or by holding the spear by its tips and folding the spear until it broke.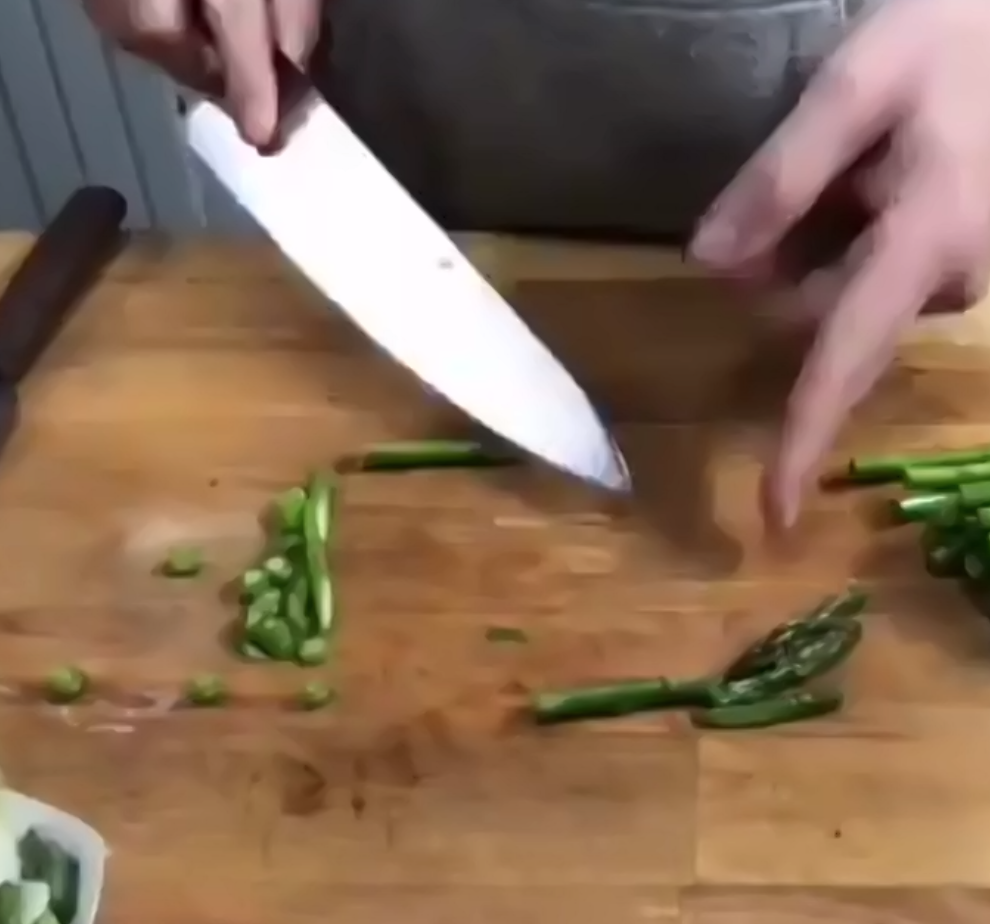 "Stuff that you get from a farm stand or the farmers market shouldn't be woody at all because it was picked probably the night before you bought it. So that's one thing to keep in mind," he said.
In preparing the meringue, Umansky advised separating eggs into a smaller bowl first before adding the whites to the larger bowl to ensure yolk and shell were removed.
He also said any source of milk, including almond milk, could be used to poach the meringues.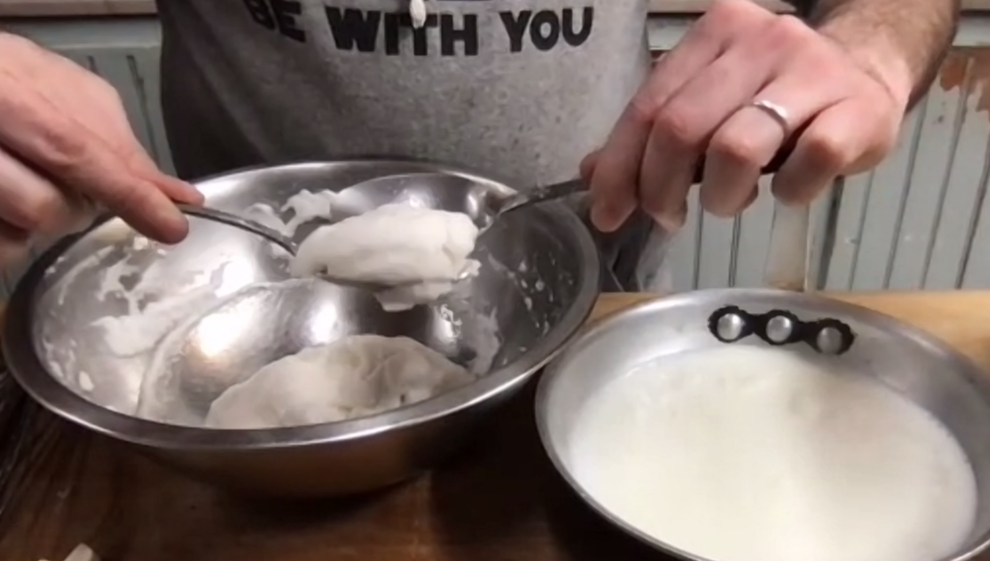 He demonstrated the use of two spoons to form rounded caneles of the meringue.
The graduate of Culinary Institute of America in Hyde Park, N.Y., said cooking is "wonderfully democratized.
"Anybody can learn to be a great cook, great chef," he said. "You just got to do it."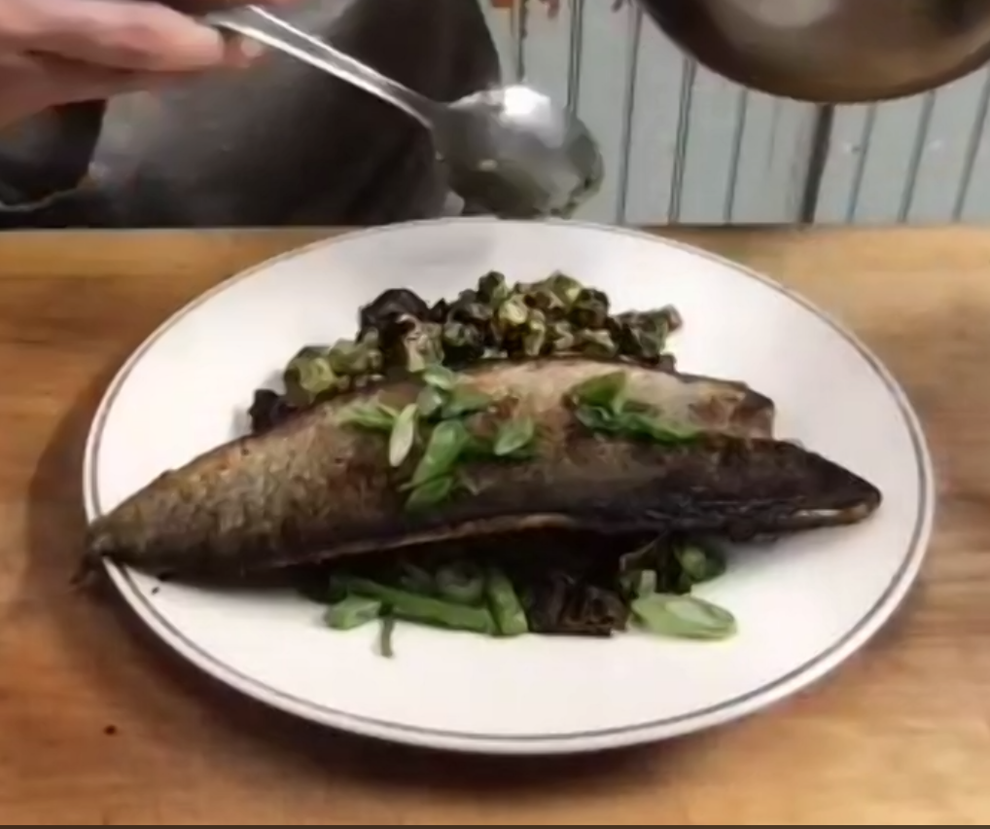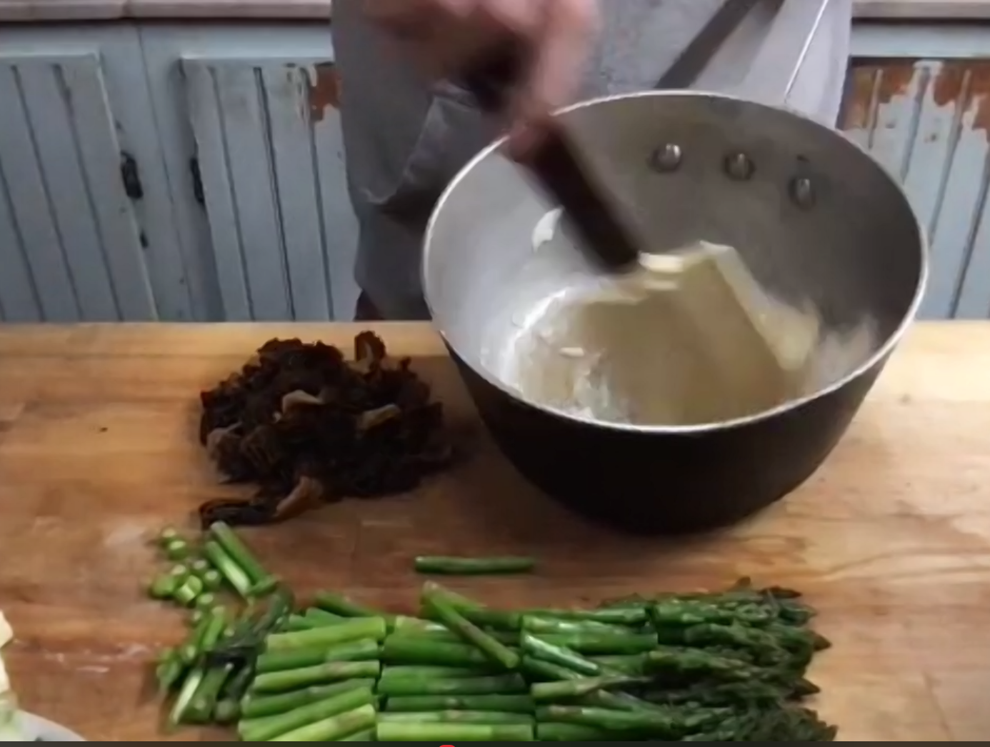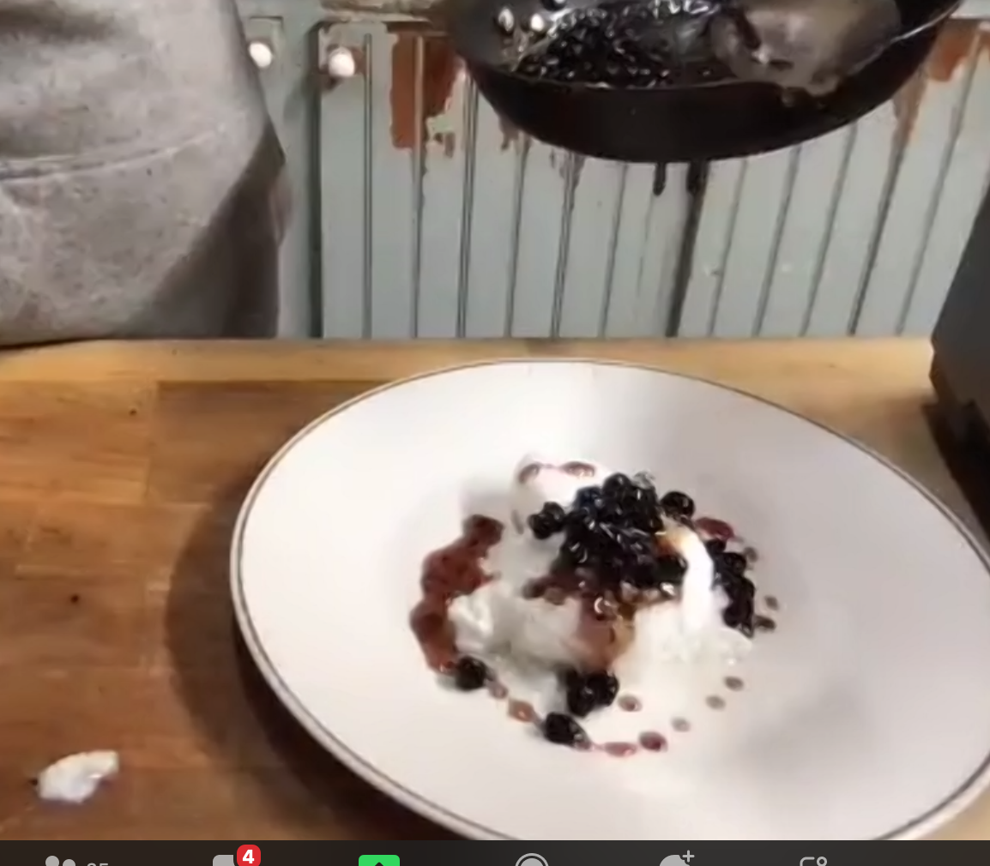 All recipes by Jeremy Umansky